OR-165 AUDIO DUFFEL BAG
Lightweight and flexible, the Orca OR-165 Audio Duffel Bag was designed to hold, protect, and transport audio gear. It can accommodate any of the Orca audio bags, together with microphone windshields, cables, wireless systems, a boom pole, and additional accessories.
Main Features:
Soft bag design for maximum storage capacity
Three large external pockets
Fold-and-stow padded backpack system
Special boom pole pocket
Hook and loop system to store and secure any Orca audio bag
Mesh pockets and rubber webbing for accessory storage
Weather and rain resistant
Can be worn as a shoulder bag (shoulder strap sold separately)
*Note: The Orca OR-444 and OR-37 waist belts can be attached to the OR-165. Click the image below for a demo pic.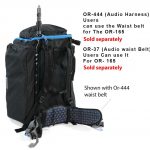 Model
Internal: cm / Inch
External: cm / inch
Weight: Kg / Lb
OR-165
L: 61Cm / 24"
W: 34cm / 13,38"
H: 26cm / 10.4"

L: 64cm / 25.2"
W: 35cm / 13.77"
H: 29cm / 12"
1.92kg / 4.23Lb
Need spare parts OR Service ?..