The Orca Audio Duffle Backpack was designed to carry audio operator gear for easy transportation.
The OR-165 Sound Duffle Backpack can accommodate any of the Orca audio bags, together with Sound Zeppelin, Cables, Boom Pole, wireless systems and additional accessories.
The bag comes with padded backpack straps that are stored inside a back pocket, 3 external giant pockets; one on each side and one at the top.
Inside, a hook and loop system allows you to hold any Orca mixer bag mesh pockets for small accessories and rubber webbing enable you to secure accessories.
The bag can also be used as a shoulder bag (shoulder strap sold separately).
Remark: The Orca OR-444 Harness Waist belt and the Orca OR-37 waist belt, Can be integrated and attached with the OR-165  
Demo pic : (Tap on the pic below)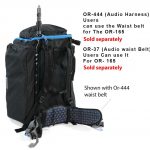 Model
Internal: cm / Inch
External: cm / inch
Weight: Kg / Lb
OR-165
L: 61Cm / 24"
W: 34cm / 13,38"
H: 15cm / 5.9"

L: 64cm / 25.2"
W: 35cm / 13.77"
H: 19cm / 7.48"
1.92kg / 4.23Lb
Main Features:
Soft bag design for maximum storage capacity
3 giant external pockets (2 on the side, one at the top)
Lightweight, flexible, foldable
Weather/Rain resistance
Fold-and-stow padded backpack system
Special boom pole pocket
Need spare parts OR Service ?..