ORCA OR-30 AUDIO MIXER BAG W/ DETACHABLE FRONT PANEL
The Orca OR-30 Audio Mixer Bag has an easily detachable front panel, which can be used as a stand-alone pouch for accessory storage. The OR-30 offers optional covers in three different colors: black, blue, and gray.* The OR-30 is recommended for the Zaxcom Max; Sound Devices 633, 833, and 888; and similarly sized mixers.
Main Features:
Inside lining made from bright blue brushed polyester for easy equipment viewing
External aluminum frame and internal honeycomb frame for maximum gear protection
Unique battery pocket with extra space
Large detachable front pocket for audio accessory storage
Two detachable external pouches and nine internal rubber bands to hold a wireless system
Two detachable carrying handles and padded shoulder strap
Front bungee cords, hook and loop webbing to hold boom pole or cables
Two extra padded sponges to level wireless receivers inside the bag
Angled profile for maximum access to mixer side connectors
Can be connected to an Orca harness (OR-444, OR-40, OR-400) to ease user's load
Orca "lifts" that can be used to adjust mixer height within the bag
Unique sliding system to help secure and position mixer inside the bag
Transparent TPU top cover for easy equipment viewing
Easy equipment access from all six directions
*OSP 1030-20/21/22 sold separately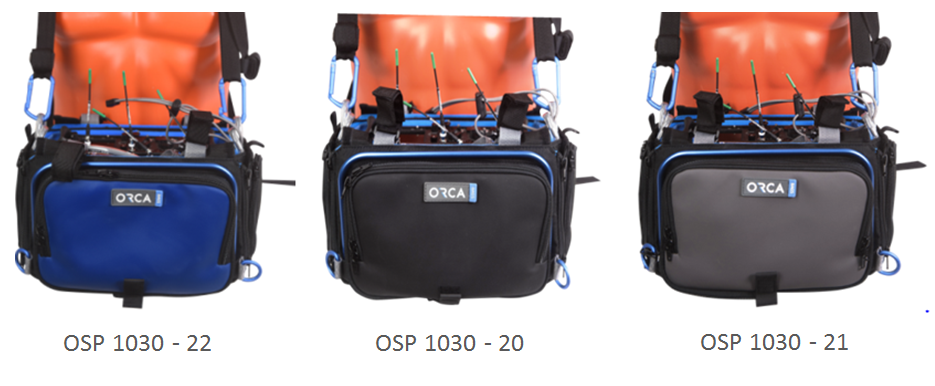 Model
Internal: cm / Inch
External: cm / inch
Weight: Kg / Lb
OR-30
L: 26cm / 10.2"
W: 12cm / 4.72"
H: 17.5cm / 6.89"

L: 31cm / 12.2"
W: 26cm / 10.23"
H: 19.5cm / 7.68"
1.78kg / 3.91Lb
Need spare parts OR Service ?..