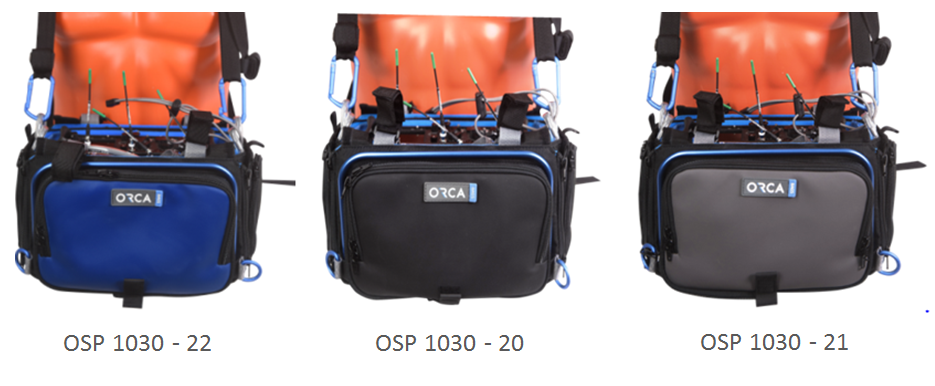 NEW!
The new OR-30  Mixer bag – with the detachable front panel.

The new 2017  OR-30, Orca sound bag, comes with a fast detachable front panel.
The detaching pannel can be used as a stand-alone pouch for storing any accessories.
The new or-30 offers new 3 optional covers. Blue, Black and Gray * (sales separately)


Model specs: (Please note: The or-30 width, without  the front Pannel  is: 19-20 Cm | Less than 8 Inch)
Model
Internal: cm / Inch
External: cm / inch
Weight: Kg / Lb
OR-30
L: 26cm / 10.2"
W: 12cm / 4.72"
H: 17.5cm / 6.89"

L: 31cm / 12.2"
W: 26cm / 10.23"
H: 19.5cm / 7.68"
1.78kg / 3.91Lb
The or-30 is recommended for Zaxcom max, Sound Devices 633 & Similar size mixers
Special features:
The world's first audio bag with an aluminum frame, and the first that provides access to the gear inside from 6 directions.
"ORCA Lift", the first solution in the world to help audio operators position the mixer from any size to any level.
A special sliding system to secure any mixer inside the bag.
Top Clear TPU for easy viewing.
Unique battery pocket with extra rubber battery fittings.
Detachable carrying handles & shoulder strap.
Two giant pockets for storing any audio accessories.
Two external detachable pouches and 9 rubber bands to hold any size of a wireless system
Front bungee cords to hold boom pole or cables.
Can be connected to the Orca Harness, to ease the load off a user.
Inside lining made from bright blue brushed polyester for easy viewing of equipment.
Need spare parts OR Service ?..